Diedrich Roasters Scholarship
We are pleased to announce the recipients of the Diedrich Roasters Scholarship opportunity to attend Coffee Roasters Guild Retreat, August 15-18, 2019. The Coffee Roasters Guild Retreat scholarship recipients are future or current leaders to the coffee roasting community, helping to drive the future of specialty coffee. Diedrich, in partnership with the Coffee Roasters Guild will cover the registration fee for the event.
Meet the 2019 Diedrich Scholars
Co-Founder, Repetition Coffee
Repetition Coffee co-founder, Amy Pope, worked and lived abroad for nearly 10 years before returning to Lawrence Kansas to pursue a passion for coffee. As Director of Coffee and Green Buyer, she applies an ethos of sustainability and respect equally to the relationships built at origin, as to our customer base here in the States. In 2018 she was awarded a bronze medal in the Golden Bean Coffee Roasters Competition. As an SCA certified Coffee Taster she finds her zen zone at the cupping table. You may also find her sipping away on mezcals and microbrews as she is passionate about most things that explode the palate. Apart from coffee, Amy loves travel, crosswords and her three kitties!
Director of Coffee, Cultivate Coffee
Jess Harmon started working in coffee in 2010. It didn't take long for her to start roasting coffee in 2012 when she bought herself a home roaster for her birthday. Now, she is an SCA certified coffee roaster and shares her love for roasting with the city of Ypsilanti. She is super passionate about gender equity in the coffee industry, from origin to coffee shop. Jess puts tremendous heart and thought into her work from sourcing coffee to overseeing and tasting each batch roasted.
Jose Rolando Monterroso (AKA Roland)
Founder and Roaster, Spokes Cafe
34 years old. Husband, father of three rascals and roaster in development
We live in Guatemala along with my wife Lisa who's our amazing baker for our desserts.
We've been running the coffee shop for a year now. I love roasting for our little café and for others. I look into the different challenges that this beautiful bean gives us every day! I love coffee but mostly I love how coffee generates community. #iamaspoke
Founder/Farm Manager, Fincas La Sombra

My name is Remy Rodríguez Chardon (@remyarod), founder/farm manager at Fincas La Sombra in Guayanilla, Puerto Rico, and founder/roaster at Sotavento Coffee Roasters (@cafesotavento) in Ponce, Puerto Rico. So stoked to have been chosen as one of the recipients of the Stephan and Becky Diedrich Coffee Roasters Guild Retreat Scholarship and given the chance to attend such an Event, with the opportunity to continue my professional development, establish relationships, learn from the best and bring back all that knowledge to share with the rest of the island's coffee roasters.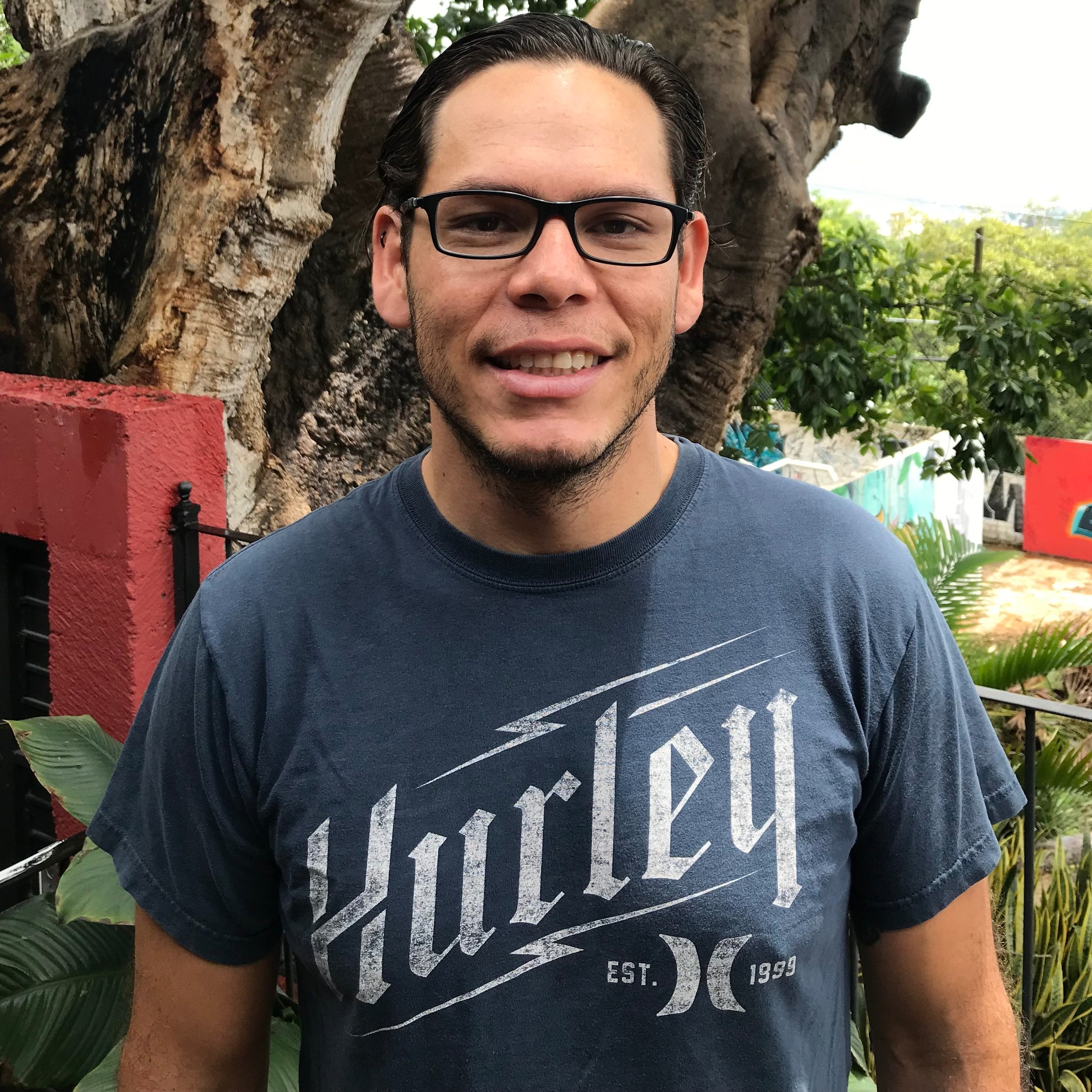 Co-Founder, Origen Café Tequepexpan

Coffee passionate by heritage; his family is originally from a small town in central Nayarit's isolated mountains named Tequepexpan, where people has been growing backyard coffee for more than a 100 years.
He has lived in all regions of México, from the tropical rainforest and highlands of Chiapas to the magic encounter of desert and sea in Baja, always enjoying the ancient and modern Mexican culture, from which coffee is important component.
During his Natural Resources Management masters degree, he lived together indigenous people from southern Mexico, where he learn the importance of social and environmental sustainability of agricultural practices, specially a group of coffee growers from Tziscao, Chiapas taught him the passion, effort, proud and self-identity as group, and how far should they go. During his doctoral studies, in the Gulf of California, he learn from Baja's people, who lived far away from coffee lands the transcendence of coffee as an ecosystems and culture barriers breaker.
From his family, he learnt the charm of a nice chat and cup of coffee, time to time talking about how his uncles and aunts helped his grandfather to grow and sun-dry the fruit, and how his grandmother threshed and roasted the beans in clay pots on the wood stove.
All this together, his father bought the old coffee land his grandfather once owned, and together his brothers and parents founded Origen Café Tequepexpan, a rising family coffee company whose main goal is to rescue and enhance the true value of this small town coffee; establishing environmental and social sustainable practices, from the land to the cup, and give to the world the best of Tequepexpan Coffee.
He loves coffee, he loves the tradition of coffee, and he loves to transmit this to other people, especially his son Itzam, with whom he enjoy this way of life.